---
Paula Duarte-Guterman (PDF)
---
Rand Eid (Graduate Student)
 My research interests broadly lie in understanding the neurobiological underpinnings of stress resilience and vulnerability, particularly as they relate to neuropsychiatric disorders such as depression. Unfortunately, despite the fact that women are more likely than men to develop depression and other stress-related neuropsychiatric disorders, female subjects continue to be largely excluded from preclinical research. As a PhD student in the Galea lab, my research is focused on understanding the cellular and molecular mechanisms by which estrogens may contribute to resilience against the development of depressive-like endophenotypes in females. More specifically, I am investigating the potential for estrogens to protect against the deleterious effects of chronic stress through the modulation of inflammatory processes. When I'm not in the lab, I can be found experimenting in the kitchen, or playing viola with the Vancouver Philharmonic Orchestra.
---
Travis Hodges (PDF)
---
Muna Ibrahim (Research Assistant)
---
Dannia Islas (PDF)
My research interests are mainly how sexual hormones could impact our behavior and lead to some pathologies. I studied my PhD in Mexico City and my research was to elucidate the HPA axis activity in response to hormonal absence or an abrupt drop of them, such as progesterone withdrawal (PW). PW leads to a increase in anxiety and I explored if a non-pharmacological approach, like enriched environment, could ameliorate the impact of PW in anxiety and in the HPA axis response.My postdoctoral research at the Galea lab will be focused in to examine if biological sex is related to the efficacy of aerobic training (AT) in cognition. In addition, since some reports suggest that BDNF is an important mediator of the beneficial effects of AT in cognitive function, we will evaluate the BDNF val66met polymorphism to determine its influence on the AT effect in memory through a preclinical model. This research aims to provide new knowledge about the interaction between sex-genotype and may help to establish more specific treatments for people with cognitive impairments.
---
Bonnie Lee (Graduate Student)
---
Stephanie Lieblich (Lab Manager)
---
Tanvi Puri (Graduate Student)
---
Wansu Qiu (Graduate Student)
Hi there, I am currently a PhD student (hopefully a candidate by this time next year) in the Galea lab. My thesis investigates the effects of maternal postpartum antidepressant exposure, and how this pharmacological treatment affects both the mother and offspring in a rat model of postpartum depression. And whether there are dietary interventions (such as folate/folic acid) can be an effective treatment for PPD. My expertise includes knowing a lot about the impressionism period of art although I am really bad at painting impressionism and a lot better at painting post-impressionism, Greek mythology, and comics particularly the Batman universe. While I am still in training as a graduate student, I hope to become somewhat of an expert in immunology, metabolism, and the microbiome and how they affect the brain/neuronal development. In my downtime, I enjoy going to the gym and pretending I'm stronger than all the people there. I enjoy collecting quotes from classical/famous novels in my journal, including some of my favourites from Call of the Wild and Anna Karenina.
---
Paul Sheppard (PDF)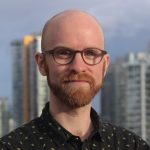 My research interests focus around behavioural neuroendocrinology, especially when it comes to sex differences and hormones in learning and memory. Originally from Rosseau, Ontario, I got my BSc (Hons.) in Behavioural Neuroscience and Nutrition (Biochemistry) from Memorial University of Newfoundland before doing my PhD at the University of Guelph. My graduate work explored how estrogens can rapidly affect short-term memory within a timeframe too brief for the classical genomic actions of estrogens to be responsible. In particular, my focus was on the mechanisms (cell signalling cascades, actin polymerization, protein synthesis) underlying the rapid actions of estrogens on social recognition – the ability of animals to recognize previously encountered conspecifics – in female mice. As part of the Galea Lab, my research investigates the cellular and molecular responses that occur within the brain in response to higher order cognitive processing and whether sex differences or estrogen level differences in females lead to different products within the brains of learning rodents. Understanding these sex and hormonal differences in typically learning animals can help us to understand why males and females are differently affected in neurological conditions in which cognitive processing is affected. My work also explores the cell signaling mechanisms that may control the effects of sex hormones on adult hippocampal neurogenesis. Beyond the lab, I am father to a bright-eyed baby boy, husband to a wonderful wife, and co-habitant to 4 friendly felines. I enjoy making strange music, listening to too many podcasts, drinking too much coffee, and being charmingly snobby about beer and music.
---
Yanhua Wen (Lab Manager)
 I have working experience in the molecular biology lab and behavioral neuroendocrinology lab. Currently I am involved in a postpartum depression project, which investigates the effects of maternal antidepressant exposure during the postpartum period and how it affects both the mothers and the offspring. My research work is focusing on immunohistochemistry looking at neurogenesis within the offspring hippocampus of those exposed to maternal postpartum depression and antidepressant treatment. I am also working with genotyping for our transgenic mice. In addition, I am responsible for reconciling lab expenses, lab supplies ordering, shipping and receiving, and general lab organizations.
---
Sarah Wong (Research Assistant)
---
Shunya Yagi (Graduate Student)
---